30-Day Free Trial + Free Microsoft Outlook Software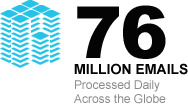 25GB Mailboxes

Spam and Virus Filtering

Comes with Microsoft ActiveSync

24/7/365 Phone Support
What is Microsoft Exchange?
Microsoft Exchange is the leading corporate email platform worldwide. DomainPeople helps companies achieve their messaging goals by combining SiteControl, our service platform, with Microsoft enterprise software for unbeatable performance, flexibility, and availability.
Email is the mission-critical communication tool of our era, allowing efficient interaction, access to email, calendars, attachments, contacts, and more - no matter where you go or what type of mobile device you carry.
Access
Outlook/Entourage
Outlook Web Application
Collaborate
SharePoint 2010 Foundation
Shared documents and folders
Global Address Lists
Shared Calendars
Shared Notes and Tasks
Secure
World Class Data Centers Provide High Availability
Backup Daily Automatically
Anti-Spam/Virus Firewall
100% Uptime Guarantee
* This trial provides customers with free Microsoft Hosted Exchange service for up to 30 days. Customer must include "Exchange30day" promotional code during the sign up process.
Customers must indicate in increments of 1, 5, 10, 15, or 20 mailboxes they wish to apply for the free 30 day trial
A maximum of 20 Exchange Mailboxes can be provisioned for free during the 30 day trial; however additional users can be activated at the posted subscription rate.
After the 30 days, service will renew and subsequent months after the 30 day will be charged at subscription rates unless you cancel.
If you decide to cancel such service for any reason, you must do so by submitting a request along with your accountID throughbilling@domainpeople.com. Upon receipt of the cancellation, we will cancel the service within two business days and you will not be charged any fees. However, if you do not cancel during this 30-day trial period, you will be obligated to pay for services still active after the 30 day trial period.
Promotional offer, available for a limited time only.
DomainPeople reserves the right to withdraw this offer at any time.
Offer available to new customers only. This trial is not available to existing customers.